Ivan Adams is a Dallas, Texas based artist who was born and raised in the wild and wonderful state of West Virginia. It was in the safety of the mountains that he forged a love for all kinds of music, especially gospel and jazz. This love of various styles music pushes him into creative mindsets that others dare not go. He writes everything: country, jazz, rock, funk, RnB, gospel, big band, and beyond. You name it and he'll try to write it. It is that kind of open-minded approach to a song that keeps his creativity fresh.
His love for the bass guitar is without measure and his music features an overwhelming variation of the instrument. His multi-instrumental skills allow him to feature solos from piano to bass and beyond. The cornerstone of his sound is the Yamaha ES6 and Triton LE Workstation.
His father and mother, Carl and Shirley Adams, always encouraged him to pursue his dreams and to be the absolute best, while instilling a positive Christian spirit. Although pursuing a passion for sports in his youth, his father never gave up on a musical talent recognized in him when just a small child. Ivan was always smiling and singing his own variations of songs. So, his father and mother made him take piano lessons at 12 years old and the rest is history. Ivan actually plays most of the instruments you hear in his songs.
There are many people Ivan would like to thank, specifically Reverend Donald Dykes, Sister Marie Murphy, Pastor Franklin Murphy, Pastor Alfred Hunt, Jeremy Lee, Minister Tammy Eubanks, Tyrone Adams, Sherman Hampton, Warren Lipscomb, Janet Williams, Pastor Chip Hall, Anthony Donaldson, and Lance Adams. They were always there for him and kept him going in the right direction musically. He extends love, hugs, and kisses to his wife, Donna, and sons, Bud and Lance, for their unwavering support. He is forever grateful to his business partner, who asks to remain anonymous, for finding the faith to invest in the dream, vision, and talent.
His production company, 3rd Floor Pro Recording (3rdFP), is expanding, once again, with the addition of two dynamic vocalists, Debra Ford and Abbie Young, and writer/rap artist, Gerardo "Gee" Casteneda. There are plans to feature some solos by young undiscovered talent in upcoming releases. He can't tell you about them, because it's a secret. LOL!
Enjoy the music and creative visions of Ivan.
Anonymous BP
Personal Note:
I thank you for taking the time to listen to the music, read my story, and hopefully, buy the songs and CDs. Most of all, I thank and praise God from whom all blessings and love flows. God has always been so very good to me and His blessing are without measure. God blessed me with friends like Andre & Wendy Tolbert; Michael & Angela Evans; John & Jane Black; The Strobles and the rest of the forever expanding Southern Comfort. You must be special when music is written, and the song is titled after you. Much love to my brothers and sisters, nieces and nephews, cousins, in-laws, extended family and friends for their direct and indirect support. It is always appreciated. Peace and blessings to you all. As so artfully stated above, much love and thanks to Donna, Bud, and Lance. No one knows like you know.
Finally, as my best friend, Pastor Chip, would say, "Listen to the bass player play!"
Ivan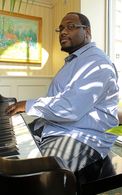 We have re-mastered releases and new music coming out soon. Stay connected and be the first to hear it.
Stay in touch with me right here or check me out on Facebook, Instagram, or You Tube. 
We have new artists in the 3rdFP family.  Multiple singles are scheduled for release in 2023 with a new CD to follow by the end of 2023. The releases will incorporate various styles of music, as we expand our horizons to reach a broader worldwide audience. Our Facebook friends and fans, along with our website family, are going to hear the music first. God has blessed us and provided new and exciting opportunities. The time is now.  You don't want to miss out on what's to come so remember to stay connected.  Peace and Blessings!