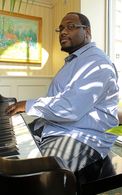 We have re-mastered releases and new music coming out soon. Stay connected and be the first to hear it.
Stay in touch with me right here or check me out on Facebook, Instagram, or You Tube. 
We have a new artist in the 3rdFP family. His name is Gerardo "Gee" Castaneda. His sound is hip and happening, a real contemporary genius. You don't want to miss out on what's to come so remember to stay connected.  Peace and Blessings!