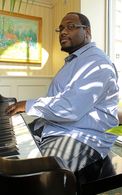 We have re-mastered releases and new music coming out soon. Stay connected and be the first to hear it.
Stay in touch with me right here or check me out on Facebook, Instagram, or You Tube. 
We have new artists in the 3rdFP family.  Multiple singles are scheduled for release in 2023 with a new CD to follow by the end of 2023. The releases will incorporate various styles of music, as we expand our horizons to reach a broader worldwide audience. Our Facebook friends and fans, along with our website family, are going to hear the music first. God has blessed us and provided new and exciting opportunities. The time is now.  You don't want to miss out on what's to come so remember to stay connected.  Peace and Blessings!