Abbie Young is an actress with a great resume for her age.  Her sense of musical timing and her powerful vocals allow her to excel in any musical genre.  She really is poised to make the next big splash on the musical scene.  We chose to introduce her to the musical world with the remake of a holiday classic, Holly Jolly Christmas.  It represents her youthfulness, while displaying her undeniable and formidable vocal talents, which rivals any of the latest pop divas. However, because of her ability to act and sing, she does not want to be one dimensional and rightfully so.  Abbie likes to be thought of as an eclectic artist who resides in the broad spectrum of the musical catalogue of the world. 
You can find her listening to and studying music from Asia and quite comfortably exploring jazz or studying show tunes in preparation for a stage play.  Abbie started acting at a very young age and has continuously blown away producers and directors with the depth and breath of her performances.  Abbie can belt out a song from The Sound of Music and on command give you a powerful rendition of a song from the popular Frozen soundtrack. What I like best about Abbie is she is humble and that's what sold me on her for this project.  For someone so talented and with such an acting resume at her age, you would expect a child diva.  No, she is just the opposite.  Abbie is coachable which means her ability to grow is without limits and if you think she is good now and she is, you haven't seen anything yet. 
You can check Abbie out during one of her many acting performances or on YouTube.  The best place to hear her is on this release and her upcoming CD to be released next year.  Abbie signed and became a part of the 3rd Floor Pro Recording family of artists for a reason, when I heard her sing it overwhelmed me and stirred up emotions that moved my spirit. Abbie has the "it" factor. She was born to be a star.  With that kind of talent, how could she be anything else but a star. 
Welcome to the exclusive world of musical artist Abbie and sing girl, sing!
Ivan
Jeremy Lee - Vocalist, Drummer, Pianist, Writer, Music Director
Jeremy is a virtuoso pianist and drummer, who has a unique musical gift.  He actually hears music perfectly and can play combination of notes that the average musician can't grasp. I've watched him leave highly trained musicians baffled at the depth of his creative genius.  When you hear what he's doing, his phrasing and timing will mesmerize you and leave you wanting more.  Our collaborations seem to bring out the best in both of us.  We push the creative boundaries and it's even more special in that he is my youngest son's best friend.  Jeremy and I have a father and son type relationship that allows for open dialogue and trust, which allows for even more creativity, because there are no barriers. What we do is special and I grow musically whenever he is around.  
Jeremy and I collaborated on three jazz gems, focusing on the simplicity of the rhythm section by adding a kind of old school sensibility and invoking an era long past gone. Our gospel roots shine through indirectly and graciously. The music is simply cool and so is Jeremy Lee.
Much love and success to you son!
Ivan
Debra Lane Ford - Vocalist
Debra is a fabulous lady. I first heard her sing at a wedding and my jaw hit the floor. I am not an emotional kind of guy and she moved my spirit.  My mind was like who is this beautiful angel.  Debra has a soulful style that can be RnB, gospel, jazz, and contemporary rock simultaneously. She can simply do it all and better than just about anyone who dares to pick up a microphone in her presence.  I get so excited whenever Debra starts to sing.  She is simply one of a kind. 
Her release, "Being Mary Jane", is scheduled for mid-January of 2016.  We wanted to do a holiday release but the scheduling just didn't allow for it.  When you have a full time job, a young daughter, and highly successful husband, you tend to be pulled in many different directions. It is only magnified by my schedule with multiple projects going most of the time. When you hear her work, you will know it and concur that it was well worth the wait.
Sing "Lady Song Bird", sing to the heavens and beyond.  The Universe is your stage.
Ivan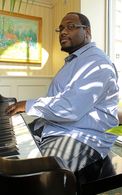 We have re-mastered releases and new music coming out soon. Stay connected and be the first to hear it.
Stay in touch with me right here or check me out on Facebook, Instagram, or You Tube. 
We have new artists in the 3rdFP family.  Multiple singles are scheduled for release in 2023 with a new CD to follow by the end of 2023. The releases will incorporate various styles of music, as we expand our horizons to reach a broader worldwide audience. Our Facebook friends and fans, along with our website family, are going to hear the music first. God has blessed us and provided new and exciting opportunities. The time is now.  You don't want to miss out on what's to come so remember to stay connected.  Peace and Blessings!